Diablo 2 Resurrected Release Date ANNOUNCED
Updated: June 13th, 2021
Its official folks, Diablo 2 Resurrected is to be released on or before September 24th, 2021 – according to Blizzard themselves.
Previously, a very reliable source on Reddit, an individual who goes by the name of Brushieee or u/PracticalBrush12, who has predicted many previous titles and their exact released dates, said that Diablo 2 Resurrected is slated for release on September 23rd, 2021. That is the release date, with further speculation that if you pre-order before then, you'll be able to participate in the open beta for Diablo 2 before then. It turns out, this individual was RIGHT!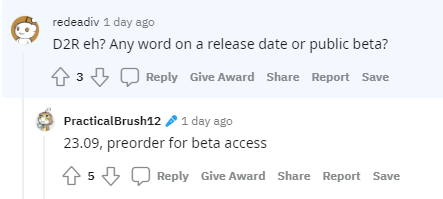 Diablo 2 is one of those games that has a very solid following all the way from when it was originally released on June 29th, 2000 – that's a whopping 21 years ago! That's not even to say that the original Diablo was released on December 31st, 1996 — almost 25 years ago!
Since then, Diablo 3 has come out along with its expansion, and Diablo 4 was even released and slated to come in after 2021 however, since Diablo 3 released, previous Diablo 2 players complained that it was just too streamlined and that the overall atmosphere of Diablo 2 was better, along with its character design and lore.
Well…let's cue the announcement of Diablo 2 Resurrected back in February 19th of this year:
Since then, there has been a ton of anticipation for Diablo 2 Ressurected, as it brings back the old classic, with a very surprisingly good looking graphical overhaul with remastered graphics on all monsters, heros, items, spells…you name it!
This is the same game players loved back in the day, but with better-looking graphics and even support for up to 4K resolution on PC.
So is Diablo 2 Being Released on September 23rd, 2021?
Previously there was speculation that it would be on the original Date Diablo 2 was originally released on, which was June 29th — however as Blizzard has just announced that Diablo 2 is to be released on or before September 24th, 2021.
Are you super pumped for Diablo 2 Resurrected? Then stay a while, and listen – and leave a comment below!