Fallout 4 Radio Song List by Station – (Diamond City / Classical)
Fallout just wouldn't the same without the accompaniment of it's retro pre and post war time era tunes to coincide with running through the wasteland shooting Super Mutants and the like. The radio stations in Fallout 4 can be accessed through your Pip-Boy (the wrist worn computer) where there are several different frequencies available as you travel through the wasteland, such as Distress Signals opening new missions. The ones we are focusing on here though are the ones that create the Fallout feel, the ones that have music.
There are two main radio music stations in Fallout 4 – the first being Diamond City Radio and the second being the Classical Radio station. There is also a third station a called Radio Freedom, which features music as well and is based out of the Castle settlement after you reclaim it for the Minutemen – although the few songs on this station don't seem to be songs available outside of the game, but rather seem to be original to Fallout 4.
Below you can find the complete song lists for both Diamond City Radio and the Classical Radio station followed by playlists consisting of a complete collection of the stations individual songs back to back.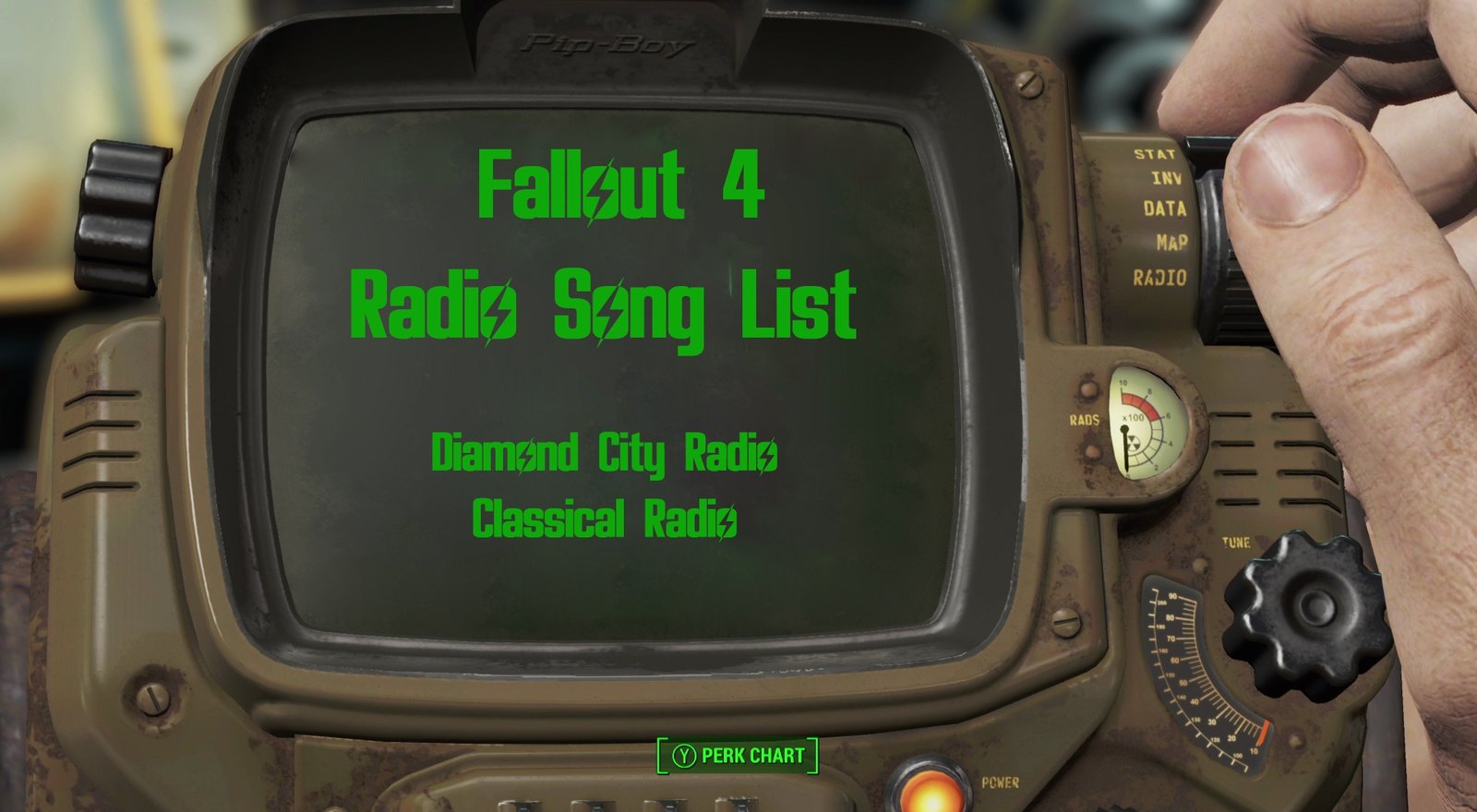 Diamond City Radio – Fallout 4
Diamond City Radio is a radio station in Fallout 4 in the Commonwealth. The station plays music from pre-war and post-war music. The host of this radio show is DJ Travis, who lacks some major confidence as can be heard through his whimsical nervous sounding voice.
Below you'll find the entire list of songs played on Diamond City radio, as well you'll find a playlist that includes all of these songs just in case you'd like to listen to them back to back.
List of Songs on Diamond City Radio – Fallout 4
*Note: all songs link to Amazon Music
A Wonderful Guy by Tex Beneke (1949)
 Accentuate the Positive by Bing Crosby (1945)
 
 Anything Goes by Cole Porter (1934)
 
 Atom Bomb Baby by The Five Stars (1957)
 
 Butcher Pete (Part 1) by Roy Brown (1950)
 
 Butcher Pete (Part 2) by Roy Brown (1950)
 
 Civilization by Danny Kaye and The Andrews Sisters (1947)
 
 Crawl Out Through The Fallout by Sheldon Allman (1960)
 
 Crazy He Calls Me by Billie Holiday (1949)
 
 Dear Hearts and Gentle People by Bob Crosby (1949)
 
 Easy Living by Billie Holiday (1937)
 
 Good Rocking Tonight by Roy Brown (1947)
 
 Grandma Plays the Numbers by Wynonie Harris (1949)
 
 Happy Times by Bob Crosby (1949)
 
 He's a Demon, He's a Devil, He's a Doll by Betty Hutton (1950)
 
 I Don't Want to Set the World on Fire by The Ink Spots (1941)
 
 Into Each Life Some Rain Must Fall by Ella Fitzgerald and The Ink Spots (1944)
 
 It's A Man by Betty Hutton (1951)
 
 It's All Over But the Crying by The Ink Spots (1947)
 
 Keep A Knockin by Louis Jordan (1939)
 
 Maybe by The Ink Spots (1940)
 
 Mighty, Mighty Man by Roy Brown (1948)
 
 One More Tomorrow by Frankie Carle (1946)
 
 Orange Colored Sky by Nat King Cole (1950)
 
 Personality by Johnny Mercer (1946)
 
 Pistol Packin' Mama by Bing Crosby and The Andrews Sisters (1943)
 
 Right Behind You Baby by Ray Smith (1958)
 
 Rocket 69 by Connie Allen (1951)
 
 Sixty Minute Man by Billy Ward And The Dominoes (1951)
 
 The End of the World by Skeeter Davis (1962)
 
 The Wanderer by Dion (1961)
 
 Undecided by Ella Fitzgerald (1938)
 
 Uranium Fever by Elton Britt (1955)

*Note: Link is not original song

 
 Uranium Rock by Warren Smith (1958)
 
 Way Back Home by Bob Crosby (1935)
 
 Whole Lotta Shakin' Goin' On by Big Maybelle (1955)
 
 Worry Worry Worry by The Three Suns (1949)
Diamond City Radio Playlist – Fallout 4
Classical Radio – Fallout 4
The Classical Radio station in Fallout 4 has only music and no DJ / radio host. It features well, classical music of which can be seen in the list below. Should the Institute be destroyed however, the classical radio station becomes unavailable.
List of Songs on Classical Radio – Fallout 4
*Note: all songs link to Amazon Music
Classical Radio Playlist – Fallout 4