Karin Kuruma Sports Car GTA 5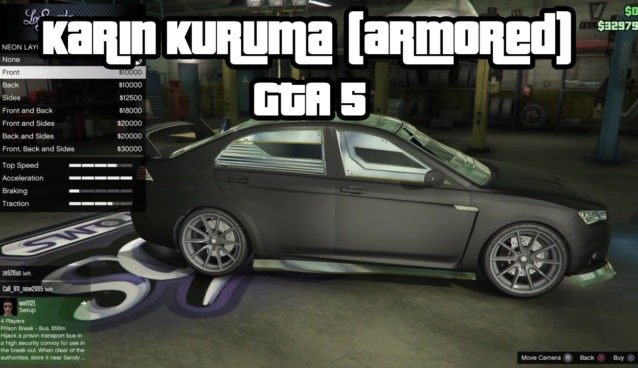 The Karin Kuruma is a sports car that was released with the Grand Theft Auto 5 Heists update. The car was unlocked and featured in the first available heist – The Fleeca Job. There is also an armored version available, which costs significantly more in the GTA 5 online care store. The Karin Kuruma is a four door compact sedan, classified as a Sport car vehicle class. The Karin Kuruma is a representation of the real life car, the Mitsubishi Lancer Evolution.
The Armoured version of the Karin Kuruma is slightly different from the original in that it is more resilient against collisions and gunshots, due to its bulletproof windows.
Purchase Price: $95 000.
Armoured Version: $525 000.
Karin Kuruma Performance Details
"According to Southernsanandreassuperautos.com the car has 6 gears, a top speed of 147mph and weighs 2866lbs. It also has 4WD capability and is very maneuverable. Even with the Turbo already equipped, the player can add another Turbo for a significantly higher acceleration. Due to the lightweight chassis on both versions of the car, it has the tendency to lift onto two wheels and even flip during sharp, high speed turns. It is slightly bested by the Sultan in terms of top speed. However, in terms of grip, the Sultan stands a heavy ground when attacking corners at high speed. The Kuruma tends to slide attempting to attack corners at similar speeds, making it feel as if the Kuruma has a non-existent ABS." (gta.wikia.com)
Below you can view a video of each the Karin Kuruma armored and non-armored becoming fully modified and some example gameplay –
Karin Kuruma Sports (armored)
Karin Kuruma Sports (non armored)